The Lifeline Adventure Series compels you to get out there and explore. The Lifeline Adventure Pannier can be used for serious expeditions or your daily commute, whatever route the bike takes you on first!
We like to ride our bikes and we like to explore. We believe you don't need to pay over the odds for the privilege and so we created the Lifeline Adventure Series of bags- maximising quality and design at a sensible price.
The bags are made from a Lightweight 300D Polyester Ripstop with TPU coating and feature a fully welded construction.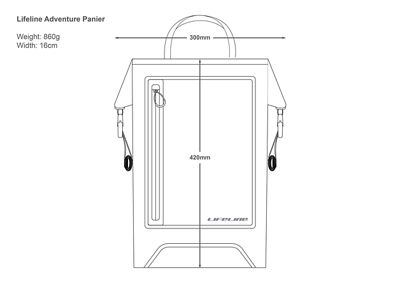 The Adventure Pannier Bag has a rolltop closure that clips down on either side of the bag.
A zip pocket at the front allows you to stash essentials that you need easy access to. The easy pull zip and reflective puller help with gloved access and the zip garage provides added protection from the elements.
The bag has a 3 point mount system. The top mounts open and close as you lift and lower the carry handle and the third mount secures to the lower of the rack, keeping the bag firmly in place.
Reflective panels at the sides of the bag provide extra visibility and webbing provides a mount for additional lighting.
The bag offers a generous 22 Litre storage allowing you to almost pack the kitchen sink!
Read More